Medela Sonata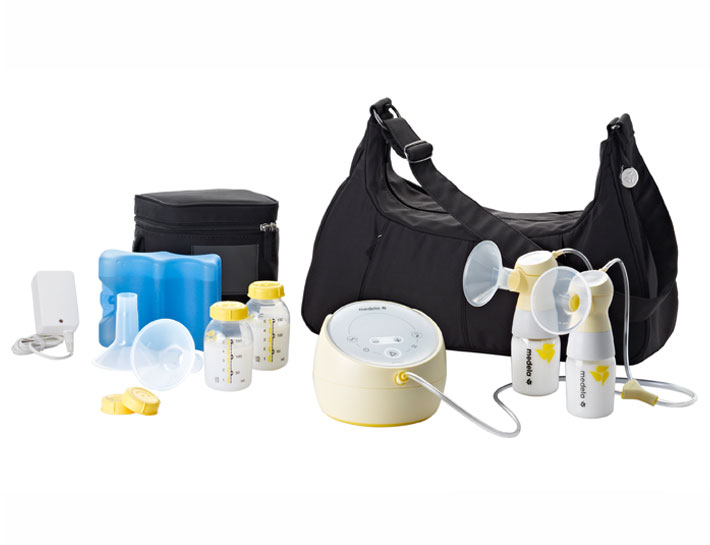 Sonata™, Medela's NEW double-electric breast pump with 2-Phase Expression® Technology, is our smart breast pump designed with you and your baby in mind.  
Smart Solution™ connects Sonata to the MyMedela® app, your breast milk feeding resource for an instant connection to your personalized pumping dashboard. Real-time tracking of your baby's growth and pumping sessions, including unlimited access to evidence based lactation information and personalized content designed to help you reach your brea
Medela Sonata Breast Pump Delivers:
An enhanced breast milk feeding experience.
More milk in less time with 2-Phase Expression Technology when double pumping, compared to single pumping.
Consistent pumping sessions featuring hospital performance, inspired by Symphony®, in a personal-use breast pump.
Flexibility to choose from two clinically tested pumping rhythms for personalized comfort.
Quiet when you need it most for discreet pumping situations like on-the-go or late-night sessions.
Included with this Medela Sonata Breast Pump
(1) Sonata Breast Pump with rechargeable lithium-ion battery
(1) Breast Pump Bag
(2) 24mm,  Breast Shields
(2) 27mm,   Breast Shields
(1) double pumping kit
Includes (2) breast shield connectors, (2) connector caps, (2) valves, (2) silicone membranes and (1) set of tubing
(4) 5 oz. bottles with lids
(1) cooler and cooling element
(2) bottle stands
(1) AC Adaptor/Charger
(1) Instructions for use
Medela Sonata Breast Pump Specs
SKU: 58200
Weight: 8.18 lbs
Dimensions: 10.43″ x 16.375″ x 9.125″
Bag Color: Black
General: UL Listed, 120 VAC, 60 Hz
Origin: Made in USA
Warranty: 1 Year limited on motor, 90 day limited on other parts
Is this the breast pump you'd like to have?
Simply complete and send the qualification form on this page, and our expert staff will promptly review it, verify your insurance, and contact you to review & complete the process. Your interest in this pump will automatically be noted on the submission.
And don't worry!  Telling us what you like right now doesn't commit you to this particular pump.
It simply lets us know your interest, and we'll go over this and other qualifying pump features with you when we speak with you, so that you can be assured you'll receive the best breast pump for your preferences and needs.
It really is that simple. We're experts in breast pumps, and in Tricare coverage, and we love supporting military moms.
We'll take care of everything.