Ardo Calypso-to-Go Double Electric Breast Pump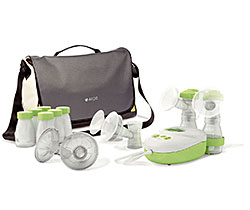 The Calypso-To-Go is the ultimate collection with all you need to be totally mobile when you are expressing.
The Quietest Breast Pump on the Market AND Total Mobility!
The collection includes a double breast pump plus a complete selection of breastfeeding accessories, easy to transport in a stylish breastfeeding bag. Accessories also include cool bag and cooling elements for storing breast milk and Amaryll conversion handle for manual pump use.
Ardo Calypso-to-Go Double Electric Breast Pump Features Include
Quietest Breast Pump on the Market
Complete with breast pump bag, cooling bag and related accessories
Simple, intuitive operation
Extended 400 hour or one-year guarantee — whichever is better for the mother
The suction strength (vacuum) and frequency settings (cycle) can be adjusted individually and independently from each other – 64 total settings
Use AA battery option for pumping without electrical power
Conversion handle included so that it can be used as a manual pump as well
Three different breast flange sizes included
Complete protection from contamination and pathogenic agents, and no milk in tubes thanks to "Vacuum Seal" technology
Optiflow actively massages the breast
Efficient and comfortable pumping experience
The compact design and the reduced sound level allow discreet expression
Includes a cleaning brush
Included with Ardo Calypso-to-Go Double Electric Breast Pump
Calypso breast pump
2 pump sets with flanges (26 mm and 31 mm)
2 breast flange inserts (28 mm)
2 Optiflow 26 mm
brush for cleaning
bottle holder
AA battery compartment
power adapter
2 lip valves (spare part)
breastfeeding bag complete with cooling bag
cooling elements
6 milk bottles
Amaryll operating lever
Ardo Calypso-to-Go Double Electric Breast Pump Specs
SKU: 63.00.243
Weight: 8.5 lb
General: UL Listed, 100-240V, 50/60Hz
Origin: Switzerland
Warranty: 400 Hours or 1 Year
Is this the breast pump you'd like to have?
Simply complete and send the qualification form on this page, and our expert staff will promptly review it, verify your insurance, and contact you to review & complete the process. Your interest in this pump will automatically be noted on the submission.
And don't worry!  Telling us what you like right now doesn't commit you to this particular pump.
It simply lets us know your interest, and we'll go over this and other qualifying pump features with you when we speak with you, so that you can be assured you'll receive the best breast pump for your preferences and needs.
It really is that simple. We're experts in breast pumps, and in Tricare coverage, and we love supporting military moms.
We'll take care of everything.